Iguazu Falls or Cataratas do Iguaçú IPA are waterfalls of the Iguazu River located on the border of the Brazilian state of Paraná and the Argentine province of Misiones.

The waterfall system consists of about 270 falls along 2.7 kilometres (1.67 miles) of the Iguazu River. Some of the individual falls are up to 82 metres (269 feet) in height, though the majority are about 64 metres (210 feet). The Garganta del Diablo or Devil's Throat (Garganta do Diabo in Portuguese), a U-shaped 150-metre-wide and 700-metre-long (490 by 2300 feet) cliff, is the most impressive of all, and marks the border between Argentina and Brazil. Most of the falls are within Argentine territory, but from the Brazilian side a more panoramic view of the Garganta del Diablo is obtained. Many islands split up the falls, including several large ones. About 900 metres of the 2.7-kilometre length does not have water flowing over it. The first European to find the falls was the Spanish Conquistador Álvar Núñez Cabeza de Vaca, after whom one of the falls in the Argentine side is named.
The falls are shared by the Iguazú National Park (Argentina) and Iguaçu National Park (Brazil). These parks were designated UNESCO World Heritage Sites in 1984 and 1986, respectively.
The name Iguazu comes from the Guarani words y (water) and guasu (big). The legend says that a god planned to marry a beautiful aborigine named Naipí, who fled with her mortal lover Tarobá in a canoe. In rage, the god sliced the river creating the waterfalls, condemning the lovers to an eternal fall.
There are two main towns on either side of the falls: Foz do Iguaçu in the Brazilian state of Paraná, and Puerto Iguazú in the Argentine province of Misiones. Other important tourist attractions near the falls include the Itaipu hydroelectric power plant, and the Jesuit Missions of the Guaranis in Argentina, Paraguay and Brazil.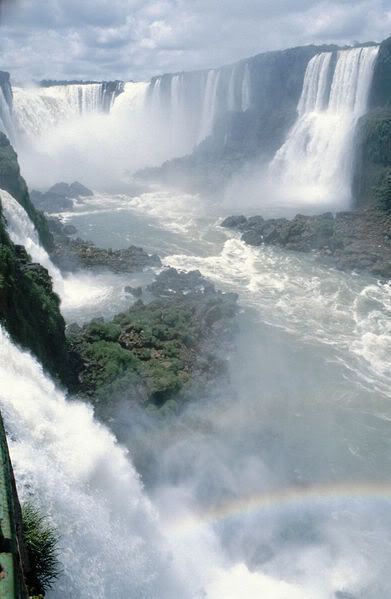 Upon seeing Iguazu, First Lady Eleanor Roosevelt reportedly exclaimed "Poor Niagara!" Vastly larger than North America's Niagara Falls, Iguazu is rivalled only by Southern Africa's Victoria Falls which separates Zambia and Zimbabwe. Whilst Iguazu is wider because it is split into about 270 discrete falls and large islands, Victoria is the largest curtain of water in the world, at over a mile wide and over 350 feet in height.